THE BOURBON ORLEANS IS OUR MAIN HOST HOTEL
ONCE AGAIN FOR SOUTHERN DECADENCE 2020.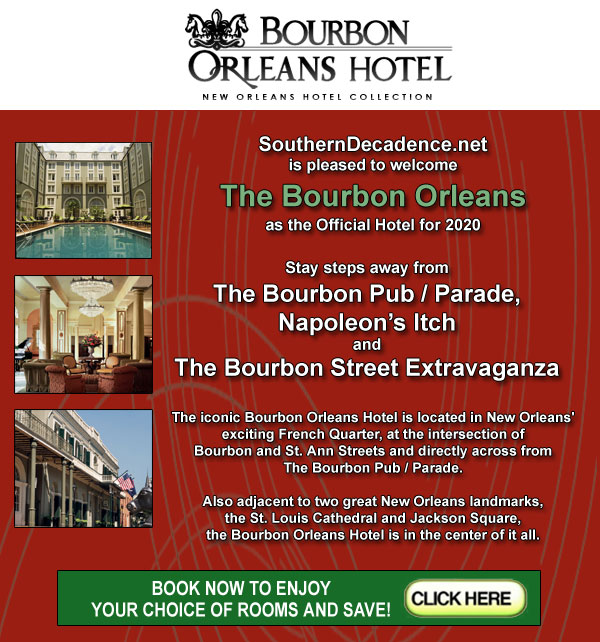 PLEASE READ BEFORE BOOKING

When you click above for The Bourbon Orleans, you will be taken
to a special booking page. At the top left of that page, it will say:
UNLOCK SPECIAL PRICING (with Stash Membership or Enrollment)" --
Please ignore this and just enter your Guest and Room information.
It is also not necessary to "Add Code" ...
The special Southern Decadence rates are already "unlocked" and loaded.

Our special rates at our Host Hotels are at least 10% better than you will find
anywhere else. These hotels always sells out for Southern Decadence ...
so don't delay.
Where To Stay?

The City of New Orleans is comprised of dozens of distinct and intim

ate neighborhoods, each with unique ambiance and attractions. Most visitors prefer the convenience of staying in or very near to the French Quarter. Areas adjacent to the French Quarter include the Central Business District, the Marigny, and the Garden District.

September is the start of a peak tourist season for New Orleans. Many Southern Decadence visitors come year after year and reserve their hotel rooms up to 12 months ahead of time. Making arrangements for
your hotel accommodations well in advance will ensure
access to the best rates and rooms.

Got a question? Check our list of FAQs. Or email us at info@southerndecadence.net

Southern Decadence web site contents are Copyright 2020 SouthernDecadence.net
Please read our copyright policy on the Press and Media page regarding the use of this material.
---